Once upon a time we tossed out overflowing bins of paper coffee cups… every day. Unable to ignore the significant landfill contribution, an idea was born: Ugly Mugs! Everyone has a few unpopular mugs gathering dust in the dark corners of the cupboard. Why not bring them out of hiding and show them a little appreciation? Here at the Margarita, we have greatly cut back on single use paper cups by encouraging our guests to donate their Ugly Mugs to our shared collection. Biodegradable cups with lids (and pretty wooden stirs) are still available to our "on the go" guests, while our regulars enjoy perusing the ever changing Ugly Mug offerings- which have significantly cut down on post consumer waste. The Mug Stack in our Parlor provides all of our guests with a bring one- take one, Open Mug policy so a favorite can be given new life! Please add to the Ugly Mug treasury on your next visit to the Margarita European Inn. Or take one home as a keepsake!
These "lovely" bears wrapping presents just capture the mood of the holiday. They win Ugly mug for today; bless their hearts.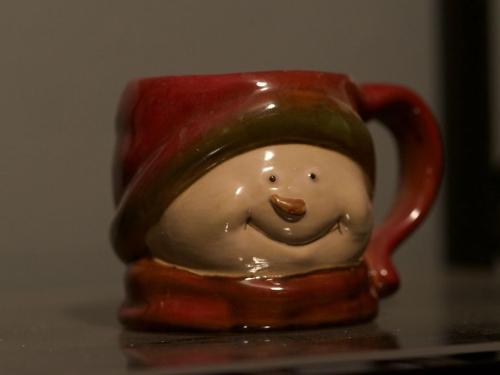 This Ugly Mug was left here last week. Perfect for Christmas.